Our page
Our page tries to be the place where all our associates and neighbors know the reality of our village. Also you will be able to find everything related to the local beauty in the one that is placed Ponte do Porco.
This one is the place where will be abled to read everything what happens about our Association, as well as his activities and the news most distinguished from our councill. 
| | | | |
| --- | --- | --- | --- |
| The town council resigns the subsidy | | | |
Sunday, 20 February 2011 11:08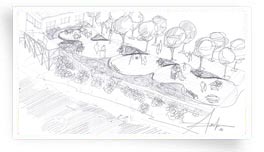 Our town concil has resigned a subsidy of 40.000 Euros to arrange the park of Put do On Porco, so we will continue with a park without conditioning totally. As us sources of the town council comment it owes to that they are negotiating that grants to them the complete help, which is of approximately 90.000 Euros.
Sunday, 06 February 2011 19:30
Video of 1969. The story takes place in San Xiao de Vigo (Galicia), a village with some 200 inhabitants, where women play a major role in the activities of the family farm business –as was common all over Galicia–, and in the process of rural development in the community.
Thursday, 20 January 2011 21:32
The Association has given this year all its associates a calendar of tablecloth in which there appear 12 photos of our village.
If you want a copy, you put in touch with some executive and for only 5 Euros you it can acquire.
« StartPrev12

3

45678910NextEnd »
Page 3 of 45