Our page
Our page tries to be the place where all our associates and neighbors know the reality of our village. Also you will be able to find everything related to the local beauty in the one that is placed Ponte do Porco.
This one is the place where will be abled to read everything what happens about our Association, as well as his activities and the news most distinguished from our councill. 
Saturday, 12 December 2009 20:30
In the bulletin of the PP of November one speaks about the park of Ponte do Porco and its extension for 2010. We had the promise to realize its extension this year but it seems that it will not be like that and as they comment, the park will be extended next year by money of the Autonomous government of Galicia.

You can see a sketch of the new park in this article.
We hope that the new park concludes in the foreseen period.
Sunday, 29 November 2009 18:25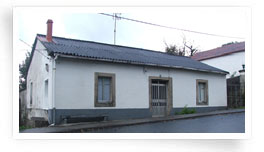 The Association has known that our councill has indicated to the current usufructuaries of the former house of Fomento (the cabin) that they must leave her since for some time this house is a property of the town hall.

We know that the town hall tries to create an "obradoiro" of employment and suppose that the aim of this "obradoiro" is to condition the house for social purposes.
Sunday, 08 November 2009 16:22
Since every year we have to your disposition the christmas lottery tickets in participations of 5 Euros of the number 15.423.
« StartPrev123456789

10

NextEnd »
Page 10 of 45