| | | | |
| --- | --- | --- | --- |
| Informative bulletin N. 5 | | | |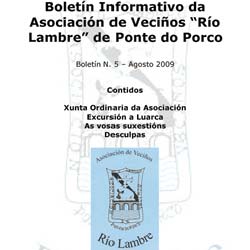 This March there goes out to the street the number 5 of our bulletin. We you remember that this bulletin does not have an established regularity and goes out to the street when the circumstances request it.
In this case we are thinking about reporting important fundamentally in the agreements taken in the last Ordinary Meeting of the Association. Another important topic is the excursion to Luarca (Asturias) to whom you you all can sign, if you are associates for 18 Euros, and if you are not associates for 25 Euros.
Also it is possible to unload the bulletin in format pdf in the low link and read it calmly better where you desire it.
If you want to collaborate in the conservation of the environment you can help reading the news of our Association in this web page or sending an e-mail to This e-mail address is being protected from spambots. You need JavaScript enabled to view it and from this instant we will send all the information of the Association across your e-mail.